When you have a pinched nerve in your neck, even doing everyday tasks becomes unbearably painful. Rather than try to wait it out, hoping it resolves itself, visit the team of spine specialists at the Spine & Rehab Group. They have eight conveniently located offices in Manhattan and across northern New Jersey. You'll find experts in neck and back pain who quickly diagnose the cause of your cervical radiculopathy and recommend the best treatment. Call for an appointment today to get treatment for cervical radiculopathy and get the pain relief you need to return to an active lifestyle.
What Defines Cervical Radiculopathy?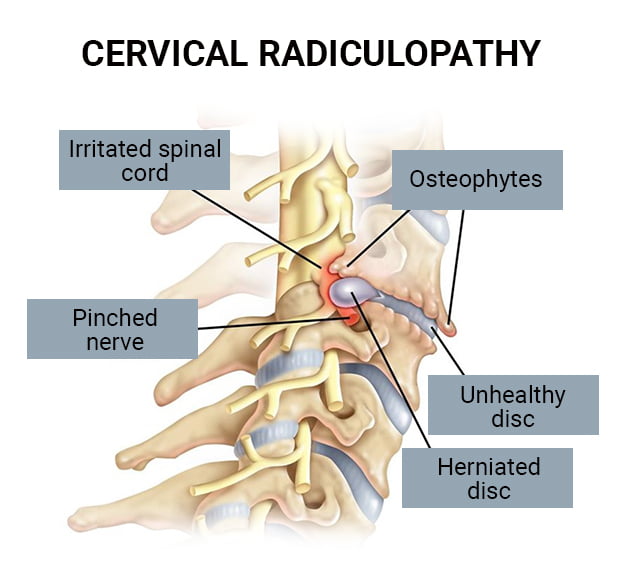 An easy way to define cervical radiculopathy is to put it in a category with pinched nerves in your neck. When a nerve becomes compromised or compacted, it sends pain signals up your spinal cord to your brain. Since your spinal cord is a communication passageway to and from your brain to the rest of your central nervous system. Pain always means there's a problem in your body.
Dr. Amr Hosny and The Spine & Rehab Group team in New York City and northern New Jersey locate the compressed nerve that's causing the pain. Then they provide the best treatment for cervical radiculopathy to meet your needs. The treatment eliminates or reduces pain in most. If your pain persists, your spine specialist provides pain management that works.
What Are Some of the Reasons for This Condition?
Cervical radiculopathy is a result of the normal process of aging. If you're younger, more than likely it's the result of a neck injury. The damage to your neck often winds up causing a cervical disc herniation. The cushioning disc no longer protects your vertebrae. The nerve that exists the spinal canal at that point in your neck becomes compressed and inflamed. But this condition responds well to professional treatment.
There are other possible causes of cervical radiculopathy, but they are rare or have contributing factors. For example, some of these other causes include:
Lifting large or heavy items without using proper techniques
Parachuting
Decompression sickness that makes nitrogen bubbles in your tissue, as scuba divers experience
Ganglion compressions create a cyst wall that constricts a nerve
Metabolic disturbances resulting in hypertension or altered glucose levels
Cerebral palsy
Non-Hodgkin's lymphoma
Growths on your spine
Sarcoidosis
Our Board certified

doctors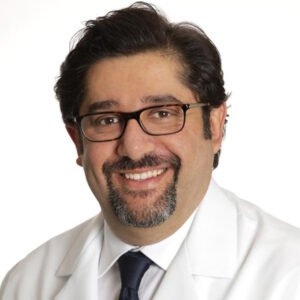 Amr Hosny, MD, MBA, FASA
Book Now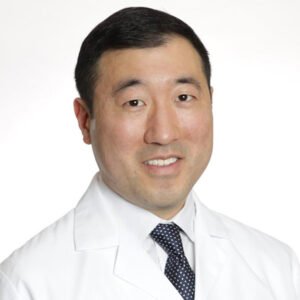 David Chu, MD, FAAPMR
Book Now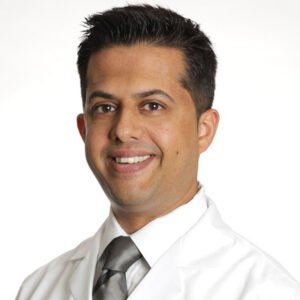 Vivek Mehta, MD, FAAPMR
Book Now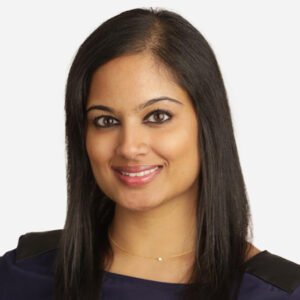 Deepali Gupta, MD, DABA, DABPM
Book Now
What Are the Symptoms of Cervical Radiculopathy?
There are many reasons you may seek treatment for cervical radiculopathy. Some conditions that accompany cervical radiculopathy or are similar in nature include:
Carpel tunnel syndrome
Inflammatory arthritis
Cervical bursitis
Cervical fibromyositis
Disorders of the cervical spinal cord
Some of the symptoms you experience may require a complete examination from your doctor at the Spine & Rehab Group to diagnose and treat you. These symptoms include:
Emanating pain in your neck, shoulder blade or arm
A sensation of numbness
Skin that's cold or hot to the touch
Sensory disruption
Lowered muscle stretch responses
Paresthesia, which is a tingling sensation
Muscle spasms
Less common symptoms may include:
Weakness in your thumb extension
Jaw pain
Pseudo-angina
Do Cervical Radiculopathy Treatments Work?
Because this condition is degenerative, similar to degenerative disc disease, treatment of cervical radiculopathy is necessary to help you maintain neck mobility and remain pain-free. Your spine specialist prefers to begin with interventional pain management tactics and education that include:
The knowledge that, as you age, your condition deteriorates.
Because you may also receive a diagnosis of spondylosis or disc herniation, you need to be alert for those symptoms as well.
If your condition worsens, it doesn't mean there isn't hope. Most cases of cervical radiculopathy are treatable.
You may have to commit to a pain management regimen, regardless of whether you're currently in treatment or not.
Your experienced medical team with the Spine & Rehab Group focuses on your well-being. They treat you based on your needs. After four to 12 weeks of non-operative treatment, your condition should improve. If not, your specialist may consider other, more invasive treatment modalities, always with your best interests in mind.
patient

TESTIMONIALS
★★★★★
I came to the spine and rehab group for my back and leg pain. I was able to get an appointment the same day I called. The staff was very friendly and courteous. The doctors were very knowledgeable and took time to explain what was causing my pain and answer all my questions. I felt comfortable having my procedure done in their state of the art surgery center, where the staff made you feel at ease. They are very easy to reach and available to answer all your questions.
Narendra G.
★★★★★
The entire staff at The Spine & Rehab group is great. They are so helpful and kind. The doctors really take time to talk to their patients and answer any and all of the questions that I had. I've had office visits and procedures done and everyone to the front desk, to the nurses. and the doctors were just great and knowledgeable. They really got me feeling better as well. Since I starting going there my pain has improved greatly! I would recommend The Spine & Rehab Group to everyone!
Carmen C.
★★★★★
The Spine & Rehab Group is my go to place for chronic pain. The doctors are compassionate and supportive. The nurses and staff are professional and so caring. I have been a patient here for almost 10 years . The doctors and physician assistant are extremely knowledgeable and always looking for the best way to help with my chronic pain! I always recommend The Spine & Rehab Group to people dealing with pain, I even tell my other doctors what wonderful doctors they are.
Val B.
★★★★★
These days it's hard to find a professional, yet extremely caring physicians office, particularly in the field of Pain Management. Dr. Hosny, Dr. Chu, physician's assistant Summer and the entire staff have managed to make this happen. Robin helped me many times with insurance to ensure that I got my shots in a timely manner (Hi Robin!). I've been going to this office for about three years and I couldn't be more pleased!
Anne
★★★★★
I went to Dr. Hosny with lower back pain. I spend many hours sitting in a truck for my job. After an hour or so I would get pain in my back. Since I am a truck driver, pain killers were not an option for me. After a few sessions with Dr. Hosny, I am pain free. The staff at New Jersey Pain Care Center and are wonderful and caring people. I would recommend anyone go to Dr. Hosny if they want real results.
Jeff
★★★★★
I had gone to Dr. Hosny with severe back pain after spinal surgery. It was debilitating pain that stopped me from being able to function normally. Dr. Hosny suggested that I have a Spinal Cord Stimulator implanted in my back. It is the best thing I EVER did. I am so excited to be able to return to my normal life with no medication. My experience at the pain center was wonderful. The nurses were very understanding and kind.
Glen
★★★★★
I have had back surgeries that provided me no relief from my pain. After a few treatments with Dr. Hosny, I have almost no discomfort. I have no need for my pain medication anymore, and have been able to go back to working out and enjoying activities with my family. I was pleasantly surprised at the treatment I received at New Jersey Pain Care Center. The staff is very nice, and treats you with respect. The facility is clean, bright and everything is brand new.
Jen
★★★★★
I had been having pain in my neck for many years. I had been to other doctors and they all recommended that I have surgery. I was hesitant to get surgery, so I wanted one more opinion. I had a friend tell me about Dr. Hosny and New Jersey Pain Care Center. From the moment I met Dr. Hosny I knew he wasn't your average doctor. He took the time to listen to my concerns about surgery, and he agreed. After my cervical radiofrequency, I have full range of motion back in my neck, and best of all, no pain.
Sharon
★★★★★
Latest treatments
★★★★★
Non-Invasive approach
★★★★★
Same-day appointments
★★★★★
Convenient Locations
★★★★★
State-of-the-art facility
What Are the Best Cervical Radiculopathy Treatments?
First, your spine specialist needs to complete a thorough evaluation. This assessment differentiates cervical radiculopathy from other disorders, which may appear in conjunction with your pinched nerve. In many cases, conservative treatments used in combination are effective for the treatment of cervical radiculopathy. Your treatment may include:
Moist heat compresses
Ultrasound
Cervical traction
Instructions to improve your neck ergonomics
Relaxation techniques
Physical therapy and education
Manual manipulation and massage
Alteration of your activities to reduce stress on the nerve
A cervical epidural steroid injection into the affected nerve root
Your symptoms may worsen even with prompt treatment of cervical radiculopathy, requiring other treatment options. You may lose some strength in your hands. Dr. Hosny and his team provide the necessary information in laymen's terms to help you make an informed decision. Some possible surgical solutions to your condition may include:
Artificial disc replacement used to replace an unhealthy disc
Anterior cervical discectomy and fusion surgery to remove the problem disc and fuse your vertebrae together
Posterior foraminotomy, a less invasive procedure that provides high-quality imaging data to the surgeon
Whatever is causing your neck pain, the team of advanced spine doctors at the Spine & Rehab Group quickly diagnose the cause and recommend the best treatment. They are highly trained in the treatment of cervical radiculopathy. For an accurate assessment and effective treatments, contact the office nearest to you for a consultation. They have eight locations in NYC and northern NJ.