About Cervical Disc Herniation
A cervical disc herniation in your neck can lead to debilitating pain. While you may think that you just need to rest or do some more stretching, you may actually have a herniation that requires medical attention as soon as possible. Instead of waiting and guessing, call the experts at the Spine & Rehab Group for exceptional care in New York City and northern New Jersey. They are spine experts who quickly diagnose your condition and provide expert treatment. When you just need to take it easy, they'll let you know, and when further treatment is necessary, you'll get it. Call today for an evaluation.
What Is Cervical Disc Herniation?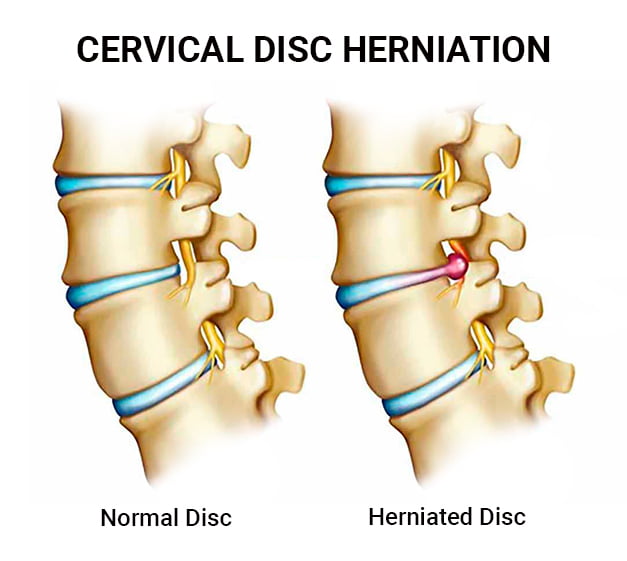 Cervical disc herniation is a condition caused by a ruptured disc. When this occurs, the gelatinous material known as the nucleus pulpous inside a cervical disc breaks through the outer cervical disc wall. The material from the herniated disc compresses an exiting spinal nerve, called cervical radiculopathy, the spinal cord itself or both. This condition causes pain in various parts of your body, as well as other symptoms.
Your cervical spine provides flexibility to your neck and stability to your head. This section of your spine comprises six cervical discs lying between the vertebrae to absorb shocks. The discs facilitate movement in your neck. With age, injury or disease, a cervical disc can degenerate, leading to spinal disorders, including cervical disc herniation.
The pain and other symptoms caused by a herniated disc in the cervical spine can alter your life and require urgent treatment. Dr. Amr Hosny, a board-certified spine doctor, along with his team at the New York- and New Jersey-based Spine & Rehab Group, uses advanced medical technology to ensure a correct diagnosis and targeted cervical herniated disc treatment.
Our Board certified

doctors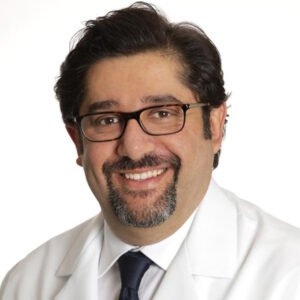 Amr Hosny, MD, MBA, FASA
Book Now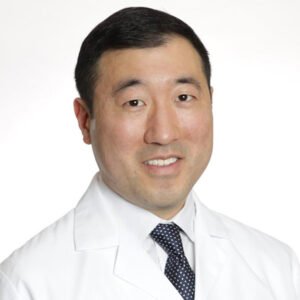 David Chu, MD, FAAPMR
Book Now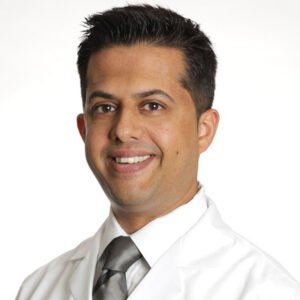 Vivek Mehta, MD, FAAPMR
Book Now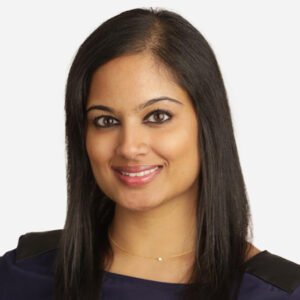 Deepali Gupta, MD, DABA, DABPM
Book Now
What Are Symptoms of Cervical Disc Herniation?
If you're experiencing nagging neck pain, it may be due to a herniated cervical disc. Neck pain, a debilitating health condition, affects 30 to 50 percent of adults in the country. Symptoms vary, depending on which disc ruptures and the location of the pressure from the herniated cervical disc. Some symptoms that point to a cervical herniated disc include:
Neck, scapula or shoulder pain
Numbness or tingling in your arm and shoulder radiating down to your fingers
Difficulties walking, such as stumbling or feeling off-balance
Tingling sensation or a shock-like feeling that runs down into your legs
Difficulties with fine motor skills
Loss of balance and coordination
Muscle spasms
Neck and trapezial tenderness in the back of your neck and shoulders
Weakness during finger flexion, hand-gripping and thumb extension
If you notice these symptoms, consult a spine specialist for a firm diagnosis. Dr. Hosny carries out a thorough examination and diagnostic tests to rule out other spinal problems, including shoulder injuries, cervical degenerative disc disease, cervical facet syndrome, or cervical slipped or bulging disc.
What Leads to a Herniated Cervical Disc?
Every herniated disc is unique. Your spine specialist uses your medical history and reports from the diagnostic tests to pinpoint the cause of your pain. Causes of a cervical herniated disc include:
Excessive stress on the cervical disc during heavy lifting
Aging that leads to degeneration of ligaments surrounding the cervical discs
Genetic factors
Sudden jarring motions
Poor posture, which places additional stress on the cervical spine
Some occupational and recreational activities
Various sports that cause cervical sports injuries, such as weightlifting
By identifying the underlying cause of the herniated disc, your spinal doctor can offer a more effective treatment plan. The team at the Spine & Rehab Group relies on modern technology to detect the herniated disc and other medical issues.
patient

TESTIMONIALS
★★★★★
I came to the spine and rehab group for my back and leg pain. I was able to get an appointment the same day I called. The staff was very friendly and courteous. The doctors were very knowledgeable and took time to explain what was causing my pain and answer all my questions. I felt comfortable having my procedure done in their state of the art surgery center, where the staff made you feel at ease. They are very easy to reach and available to answer all your questions.
Narendra G.
★★★★★
The entire staff at The Spine & Rehab group is great. They are so helpful and kind. The doctors really take time to talk to their patients and answer any and all of the questions that I had. I've had office visits and procedures done and everyone to the front desk, to the nurses. and the doctors were just great and knowledgeable. They really got me feeling better as well. Since I starting going there my pain has improved greatly! I would recommend The Spine & Rehab Group to everyone!
Carmen C.
★★★★★
The Spine & Rehab Group is my go to place for chronic pain. The doctors are compassionate and supportive. The nurses and staff are professional and so caring. I have been a patient here for almost 10 years . The doctors and physician assistant are extremely knowledgeable and always looking for the best way to help with my chronic pain! I always recommend The Spine & Rehab Group to people dealing with pain, I even tell my other doctors what wonderful doctors they are.
Val B.
★★★★★
These days it's hard to find a professional, yet extremely caring physicians office, particularly in the field of Pain Management. Dr. Hosny, Dr. Chu, physician's assistant Summer and the entire staff have managed to make this happen. Robin helped me many times with insurance to ensure that I got my shots in a timely manner (Hi Robin!). I've been going to this office for about three years and I couldn't be more pleased!
Anne
★★★★★
I went to Dr. Hosny with lower back pain. I spend many hours sitting in a truck for my job. After an hour or so I would get pain in my back. Since I am a truck driver, pain killers were not an option for me. After a few sessions with Dr. Hosny, I am pain free. The staff at New Jersey Pain Care Center and are wonderful and caring people. I would recommend anyone go to Dr. Hosny if they want real results.
Jeff
★★★★★
I had gone to Dr. Hosny with severe back pain after spinal surgery. It was debilitating pain that stopped me from being able to function normally. Dr. Hosny suggested that I have a Spinal Cord Stimulator implanted in my back. It is the best thing I EVER did. I am so excited to be able to return to my normal life with no medication. My experience at the pain center was wonderful. The nurses were very understanding and kind.
Glen
★★★★★
I have had back surgeries that provided me no relief from my pain. After a few treatments with Dr. Hosny, I have almost no discomfort. I have no need for my pain medication anymore, and have been able to go back to working out and enjoying activities with my family. I was pleasantly surprised at the treatment I received at New Jersey Pain Care Center. The staff is very nice, and treats you with respect. The facility is clean, bright and everything is brand new.
Jen
★★★★★
I had been having pain in my neck for many years. I had been to other doctors and they all recommended that I have surgery. I was hesitant to get surgery, so I wanted one more opinion. I had a friend tell me about Dr. Hosny and New Jersey Pain Care Center. From the moment I met Dr. Hosny I knew he wasn't your average doctor. He took the time to listen to my concerns about surgery, and he agreed. After my cervical radiofrequency, I have full range of motion back in my neck, and best of all, no pain.
Sharon
★★★★★
Latest treatments
★★★★★
Non-Invasive approach
★★★★★
Same-day appointments
★★★★★
Convenient Locations
★★★★★
State-of-the-art facility
Am I At Risk of Cervical Disc Herniation?
Some factors increase your vulnerability to cervical disc herniation. Learning these factors can help you protect yourself from this debilitating spine condition. The risk factors for cervical disc herniation include:
Aging
Smoking
Lack of regular exercises
Sporting activities that put pressure on the spine
Spinal injury
Poor posture
Incorrect lifting and twisting
The spinal medicine team at the New York and New Jersey spine clinics helps you understand the causes and risk factors as part of their treatment plan. Find the office nearest you.
What's the Treatment for Cervical Disc Herniation?
The best treatment for herniated cervical disc restores function to your neck and back, allowing you to live a pain-free life. An early diagnosis helps you get effective treatment and improves the quality of your life. Your spine doctor can combine non-surgical treatment for cervical herniated disc with surgical options in the case of a severe cervical herniated disc. Treatment options for a herniated cervical disc include:
Over-the-counter painkillers
Physical therapy
Heat or ice treatment
Changing daily activities to reduce pain
Muscle relaxers
Laser surgery for cervical herniated disc
If you're suffering from debilitating neck and shoulder pain, it's time to get a long-term solution. If you're in New York City, contact the Spine & Rehab Group doctors in the Financial District, Greenwich Village or Midtown Manhattan. In New Jersey, contact the team in Paramus, Riverdale, Englewood Cliffs, Cranford, or East Brunswick. At the first sign of discomfort, contact Spine & Rehab Group for an evaluation to prevent further complications.