Twist, Turn, and Look Around Without Stiffness or Pain Ever Again
The Spine & Rehab Group: Turn Your Head Pain-Free With Help From Our Neck Pain Specialists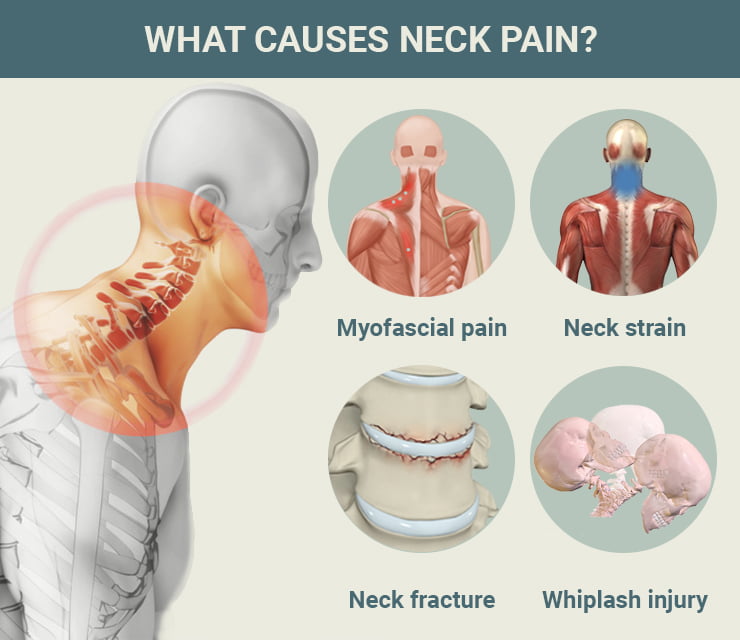 For individuals in Union County in need of professional and proven neck pain and cervical spine pain treatment, the Spine & Rehab Group is your top destination. Our team of Board Certified Interventional Spine Specialists and neck pain doctors have helped countless patients with their neck conditions, no matter the cause.
We offer comprehensive diagnostic services to best understand the specific causes of your neck and cervical pain. This allows us to develop a personalized treatment plan like no other, solving your condition from the root of the issue. Our holistic treatment services include a number of non-invasive options, including physical therapy and rehabilitation, acupuncture, interventional pain management, medical massage, and more.
With an interventional and non-surgical approach, we create treatment plans for our patients that allow them to find complete relief from all kinds of neck pain without the need for surgical intervention.
The Spine & Rehab Group in Union County: constantly committed to offering only the best care for neck pain and other related conditions. Schedule your appointment today.
Board Certified Physicians
Harvard Trained Doctors
Award-Winning NYC and NJ Doctors
Over 15 Years of Experience
Experience With Over 15,000 Procedures
Effective Treatment Plans
Non-Surgical Approach
Immediate Appointments
Convenient Location
Early Morning and Evening Hours
Types Of Neck Pain We Treat
Understanding the exact cause of your neck pain is critical towards diagnosing and treating your neck pain and related conditions. At the Spine & Rehab Group, we treat all types of neck pain a patient may experience, such as:
Muscle Pain – Having sore or aching shoulder and neck muscles might be your body's response to prolonged emotional or physical stress, caused by overexertion. This prolonged stress can lead to hard knots developing in your neck muscles, known as trigger points which are tender when touched. Doctors can recommend a cervical spine MRI to best diagnose your neck pain.
Muscle Spasm – Neck muscle spasms are sudden and forceful tightenings of the neck muscles. This leads to your neck feeling knotted or tight, to the point that it feels impossible to turn the head from side to side. If you experience a stiff and painful neck when you wake up, that is probably a neck muscle spasm. These are usually a result of muscle injury, but they can also be related to nerve problems, spinal disc issues, and extreme emotional stress.
Headache – While most headaches are felt around the head — either around the top, back, or sides of the head — there are certain headaches that are specifically related to the neck. Headaches caused by neck issues are felt around the lower back of the head, or around the upper neck area, and their primary cause is muscle spasm or muscle tension. Instead of sharp and sudden pain, neck headaches are typically low-pain, aching, and dull, and they worsen if you move your neck.
Bone Pain – If you feel that the pain in your neck is specifically coming from bones in the neck or cervical spine area, then immediate medical attention is recommended, as this may be a sign of a serious health condition. Cervical vertebrae pain and tenderness is rarer (and usually more serious than soft tissue neck pain.
Referred Pain – Referred pain occurs when an issue or condition in one part of the body triggers pain in another part, which is a common occurrence with neck pain. For example, if you have neck pain that gets worse with physical exertion, it may be related to a heart condition; neck pain that worsens as you eat can be related to an esophageal condition. Tennis elbow symptoms can be related to neck pain, and cervical degenerative disc disease can lead to neck pain and stiff neck.
Nerve Pain – When the roots of the spinal nerves around your neck become pinched or irritated, they may cause a kind of "pins and needles" pain; sharp, severe, and fleeting pain around the neck and cervical spine region. This pain can shoot down into the arm and the hand, depending on the exact nerve in the spinal cord damage. There is also cervical spine stenosis, or spinal stenosis in the neck, which is the narrowing of the spinal canal around the neck.
Our Board certified

doctors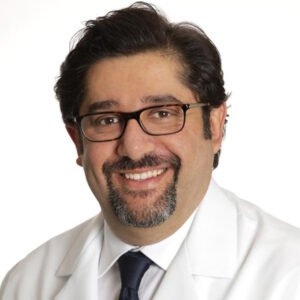 Amr Hosny, MD, MBA, FASA
Book Now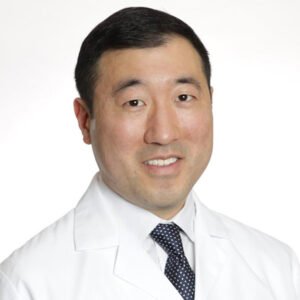 David Chu, MD, FAAPMR
Book Now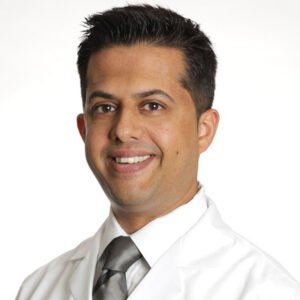 Vivek Mehta, MD, FAAPMR
Book Now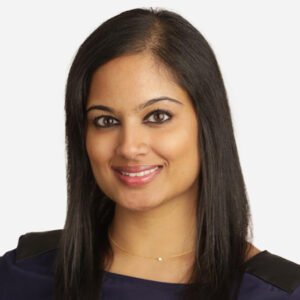 Deepali Gupta, MD, DABA, DABPM
Book Now
Union County's Top Neck Pain Doctor: Dr. Amr Hosny
The Spine & Rehab Group is led by Dr. Amr Hosny. As a board certified and Harvard trained interventional spine specialist, Dr. Hosny has spent a lifetime working with patients on their neck pain and related conditions. With training and experience at St. Luke's Roosevelt Hospital Center, Columbia University in NYC, and Harvard Medical School, Dr. Hosny is one of the most trusted doctors in Union County and surrounding areas.
With decades of experience working with patients for their various types of neck and cervical spine pain, Dr. Hosny has seen and treated it all, and is absolutely committed to helping patients reclaim their pain-free daily lives. Dr. Hosny and the rest of our team at the Spine & Rehab Group work with each patient individually, diagnosing and creating personalized treatment plans to best suit the patient's exact needs and goals.
How We Treat Neck Pain
Electrodiagnostic Medicine
Electromyography (EMG) diagnosis is a test that determines the health of your neck by measuring signals between the nerves and muscles. This diagnostic test is helpful in understanding the cause of your symptoms, and honing in on the site of the injury more accurately. At The Spine & Rehab Group, we can perform EMG diagnosis, along with X-rays and other diagnostic tests, in-house to give patients a full understanding of their neck condition.
With EMG results, our board-certified neck pain specialists and physicians can rule out nerve and muscle disorders. From there, we can get a better picture of what is causing your neck pain, how it could be affecting your mobility and comfort, and what we could do to block out pain and improve muscle strength.
Interventional Pain Management
Interventional pain management is all about exploiting non-surgical approaches to promote recovery and rehabilitation. We use anti-inflammatory pain medicine as well as steroid injections to keep pain to a minimum. Our team administers trigger point injections in-house that address most neck pain. For nerve-related pain, we administer medical brand injections to address neck pain without the use of surgery.
On top of injections, we also perform radiofrequency therapy to promote recovery from neck pain. Interventional neck pain management embodies our holistic approach to neck pain and health: we take into consideration how treatments affect each individual to avoid downtime or the risk of a lower quality of life post-surgery. Interventional pain medicine is a fantastic solution to chronic pain relief, minus the risks associated with more invasive procedures.
Physical Therapy
With a physical therapy-focused rehabilitation program, our main goal is to strengthen your back and the surrounding muscles for increased neck support. Physician-guided physical therapy is a great way to mitigate chronic neck pain and prevent injuries in the future, whether they are direct injuries or referred pain from pre-existing back conditions. With state of the art equipment, patients can adopt an exercise routine designed to increase core strength and promote better vertebra and spinal support to the neck.
Our physical therapy plans are designed to accommodate your busy schedule and bring you closer to full recovery without needing surgery. Led by Bethany Weinmann, our in-house board certified physical therapist,The Spine & Rehab Group's physical therapy programs are diverse and innovative. We integrate different techniques such as cold laser therapy, muscle energy techniques, and myofascial release for neck pain relief.
Acupuncture
Acupuncture is offered in our rehabilitation facilities often alongside other conservative treatment methods. During an acupuncture session, hair-thin needles are inserted into the targeted area of your neck, with each session lasting anywhere from 10 to 30 minutes. Each session is performed by a licensed acupuncturist with years of experience treating acute and chronic neck pain.
We routinely recommend acupuncture to patients who don't want to receive steroid injections as part of their pain management plan. With acupuncture, patients who have undergone traditional pain relief techniques such as physical therapy and massage therapy might find immediate and renewed relief as the needles directly stimulate the neck. Direct stimulation of the central nervous system induces chemical release for natural pain relief.
Massage Therapy and Rehabilitation
Dealing with neck pain doesn't always have to be complicated. At The Spine & Rehab Group, we offer medical massage therapy for patients experiencing acute neck pain. Our medical massage therapy programs are designed and performed by a licensed massage therapist. Compared to normal massages, our medical massage therapy specifically targets the neck muscles and nerves to induce pain relief.
Sports injuries, acute injuries, and post-surgery aches are common reasons why people undergo massage therapy and rehabilitation.
Neck Pain FAQ
What is the difference between chiropractic care and the treatments at The Spine & Rehab Group?
The Spine & Rehab Group offers a holistic treatment approach to neck pain, neck injury issues, shoulder pain, facet joint pain, and all related cervical issues. Compared to chiropractic clinics with chiropractor back adjustment services, we offer a more extensive suite of non-surgical treatments and physical medicine alternatives, including diagnostics and acupuncture.
We offer non-invasive to minimally-invasive procedures to help patients manage pain and improve their quality of life. Our board certified physicians don't offer spinal alignment. Instead, we offer pain relief and rehabilitation with our various treatments, from sports medicine services to
Why am I experiencing neck pain?
Unfortunately, there is no quick answer to the root cause of your neck pain. For example, a herniated disc or disc herniation in the cervical spine can lead to pain around the neck and shoulder blade. Issues with your supportive tissues – – connective tissue disorder, ligament sprain, sore tendon in neck, and more – – can lead to a chronic condition related to the neck.
At the Spine & Rehab Group, we offer treatments for neck pain and all other musculoskeletal conditions: plantar fasciitis, lumbar spine nerve pain, and posterior knee pain to name a few. Whatever your neck or spinal conditions, we are here to help.
patient

TESTIMONIALS
★★★★★
I came to the spine and rehab group for my back and leg pain. I was able to get an appointment the same day I called. The staff was very friendly and courteous. The doctors were very knowledgeable and took time to explain what was causing my pain and answer all my questions. I felt comfortable having my procedure done in their state of the art surgery center, where the staff made you feel at ease. They are very easy to reach and available to answer all your questions.
Narendra G.
★★★★★
The entire staff at The Spine & Rehab group is great. They are so helpful and kind. The doctors really take time to talk to their patients and answer any and all of the questions that I had. I've had office visits and procedures done and everyone to the front desk, to the nurses. and the doctors were just great and knowledgeable. They really got me feeling better as well. Since I starting going there my pain has improved greatly! I would recommend The Spine & Rehab Group to everyone!
Carmen C.
★★★★★
The Spine & Rehab Group is my go to place for chronic pain. The doctors are compassionate and supportive. The nurses and staff are professional and so caring. I have been a patient here for almost 10 years . The doctors and physician assistant are extremely knowledgeable and always looking for the best way to help with my chronic pain! I always recommend The Spine & Rehab Group to people dealing with pain, I even tell my other doctors what wonderful doctors they are.
Val B.
★★★★★
These days it's hard to find a professional, yet extremely caring physicians office, particularly in the field of Pain Management. Dr. Hosny, Dr. Chu, physician's assistant Summer and the entire staff have managed to make this happen. Robin helped me many times with insurance to ensure that I got my shots in a timely manner (Hi Robin!). I've been going to this office for about three years and I couldn't be more pleased!
Anne
★★★★★
I went to Dr. Hosny with lower back pain. I spend many hours sitting in a truck for my job. After an hour or so I would get pain in my back. Since I am a truck driver, pain killers were not an option for me. After a few sessions with Dr. Hosny, I am pain free. The staff at New Jersey Pain Care Center and are wonderful and caring people. I would recommend anyone go to Dr. Hosny if they want real results.
Jeff
★★★★★
I had gone to Dr. Hosny with severe back pain after spinal surgery. It was debilitating pain that stopped me from being able to function normally. Dr. Hosny suggested that I have a Spinal Cord Stimulator implanted in my back. It is the best thing I EVER did. I am so excited to be able to return to my normal life with no medication. My experience at the pain center was wonderful. The nurses were very understanding and kind.
Glen
★★★★★
I have had back surgeries that provided me no relief from my pain. After a few treatments with Dr. Hosny, I have almost no discomfort. I have no need for my pain medication anymore, and have been able to go back to working out and enjoying activities with my family. I was pleasantly surprised at the treatment I received at New Jersey Pain Care Center. The staff is very nice, and treats you with respect. The facility is clean, bright and everything is brand new.
Jen
★★★★★
I had been having pain in my neck for many years. I had been to other doctors and they all recommended that I have surgery. I was hesitant to get surgery, so I wanted one more opinion. I had a friend tell me about Dr. Hosny and New Jersey Pain Care Center. From the moment I met Dr. Hosny I knew he wasn't your average doctor. He took the time to listen to my concerns about surgery, and he agreed. After my cervical radiofrequency, I have full range of motion back in my neck, and best of all, no pain.
Sharon
★★★★★
Latest treatments
★★★★★
Non-Invasive approach
★★★★★
Same-day appointments
★★★★★
Convenient Locations
★★★★★
State-of-the-art facility
Relieve Your Neck Pain Today With The Spine & Rehab Group in Union County
Easy access to treatment facilities and diagnostic centers is crucial in maintaining a pain-free life.  The Spine & Rehab Group's Union County office is perfect for patients looking for an all-in-one center for pain management, diagnostics, and physical therapy.
As one of the most densely-populated counties in New Jersey and the whole United States, Union County offers its residents a variety of activities and experiences, but it is also home to countless individuals living with untreated musculoskeletal and spinal conditions.
Union County offers a unique blend of urban living and natural settings, and getting the most out of it means living pain-free from any back, neck, or other kinds of spinal pain. Explore through one of the many parks (like Mattano Park and Briant Park), stroll down Elizabeth River, or visit the Hawk Rise bird Sanctuary on the banks of the Rahway River. Never miss a beat of the Union County experience with pain holding you back.
Finally, living with untreated spinal pain can make everyday life difficult and certain activities impossible, particularly if you live alone. According to the United States Census Bureau, nearly a quarter of all Union County residents live alone, with almost 1 in every 10 being over the age of 65.
At the Spine & Rehab Group, we are committed to providing patients in Union County the best level of neck pain care and rehabilitation with a fully-equipped facility under the guidance of board-certified physicians.
Reclaim your freedom from acute, chronic, sports-related, or injury-induced neck pain today. Connect with neck pain doctors in Union County NJ and get care and treatment you just won't get anywhere else.
We're servicing the following cities: